About
Mission:
Our company mission is: to bring inspiration, innovation and the essence of outdoor family fun to every backyard or recreation center in the US and Canada.


Who and How? :
Iron Sleek, Inc. was founded by life long friends who love sports and recreational activities and happen to be engineers. As natives and current residents of Chicago, we experience the four seasons every year and enjoy the unique beauty of each of them. We are in awe of nature and love to participate in it to the fullest with our friends and families. When winter rolls around, we are all about the backyard rink. Backyard rinks bring communities together and provide an atmosphere for family fun. We built our first rink the old fashioned way…without a liner or a tarp. This resulted in endless nights of sprinkling water on the grass in the shivering Chicago cold, then watching it melt away on the first lake effect thaw in late December! Back then, when rink internet postings were at a minimum, we learned the 3F method from a Canadian Periodical: Frame-Fill-Freeze. We thought the local hardware store had all the answers, but we were wrong. Building a rink frame turned out to be a very custom and labor intensive task. Consequently, we set ourselves on a mission to build an "Exact Bracket" for all the "rinkers" of the world. Our design team set a goal to design a compact, versatile, strong steel bracket that stored and shipped efficiently, and eliminated the tripping hazard around the rink. Thus, the Iron Sleek!!! We started with our patented bracket and have continued to innovate. We added several new components and Iron Sleek is now a one stop shop for the backyard rinker. We are not simply resellers who repurpose and market existing products but are manufacturers and engineers of specifically designed products for outdoor rinks. Now let me introduce our team.
Our strategic technical leader Matt is a MSME from Northwestern University. He has been priveleged enough to work within his passions on sporting products design and manufacturing for almost 20 years. Products he has worked on include: golf clubs, tennis racquets, tennis strings and accessories, squash racquets, inline skates, and various hockey products. Matt loves playing tennis and is a master at pickle ball and ping pong. Since he has designed rackets in the past, he feels that he is invincible in paddle or racket games. He actually is pretty quick and slick with a paddle in his hand but on skates he is a little out matched. Matt also loves skiing and pond skating with his boys every winter.
Mike is a BSME from University of Illinois at Chicago. Mike takes passion for sports and engineering to the next level. Always striving to make products that meet and exceed customer needs, he is our champion of product development. Mike is a fanatic for ice and snow. He loves to play pond hockey, he snow boards both left foot forward and goofy, he builds igloos and toboggan runs for his kids, and he loves to alpine tree ski. That's Mike in the middle with daughter Kayla and nephew AJ.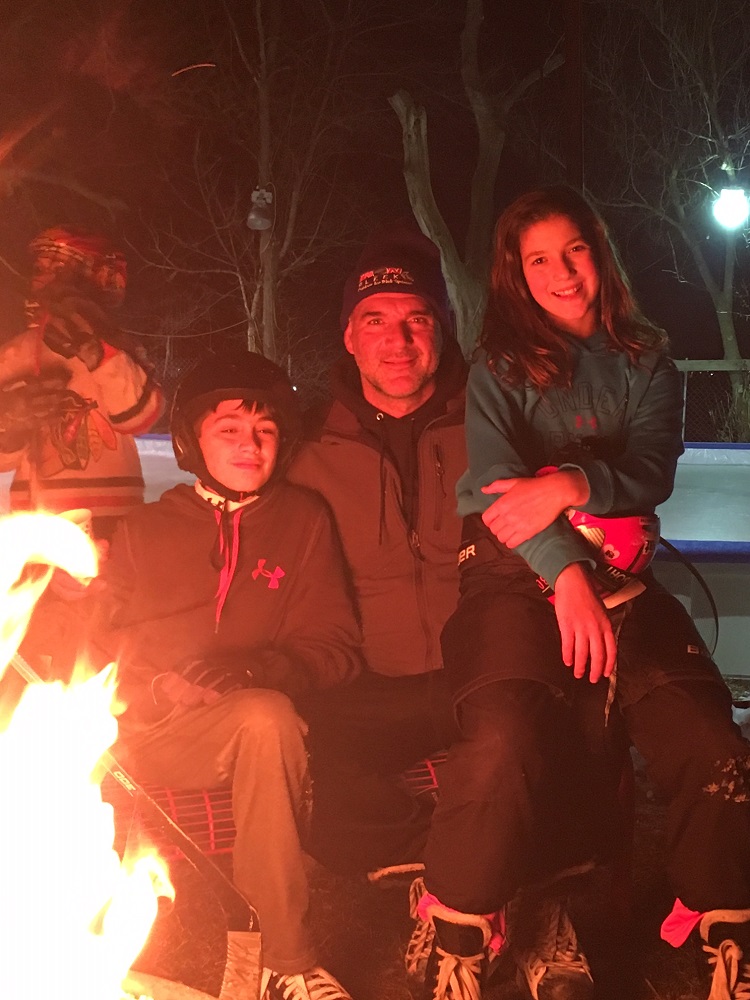 Jackie is a Division 1 collegiate athlete with an MBA from Loyola University of Chicago specializing in business strategy. She is our Director of Business Strategy and is always looking for new channels to bring products to our customer's doorsteps. I do not think that there is a sport that Jackie does not play at a high level (except golf). Jackie loves tennis, volleyball, softball, basketball, skiing and is a master around the goal in pond hockey. She is also a leader and inspiration for young girls in her community. She dedicates her free time to teaching and mentoring young female athletes. She is a big believer in cross training athletes for enhanced skills and balance. She says that skating teaches athletes command of their center of gravity which is priceless for all sports. Below is Jackie going old school with the white hockey girdle.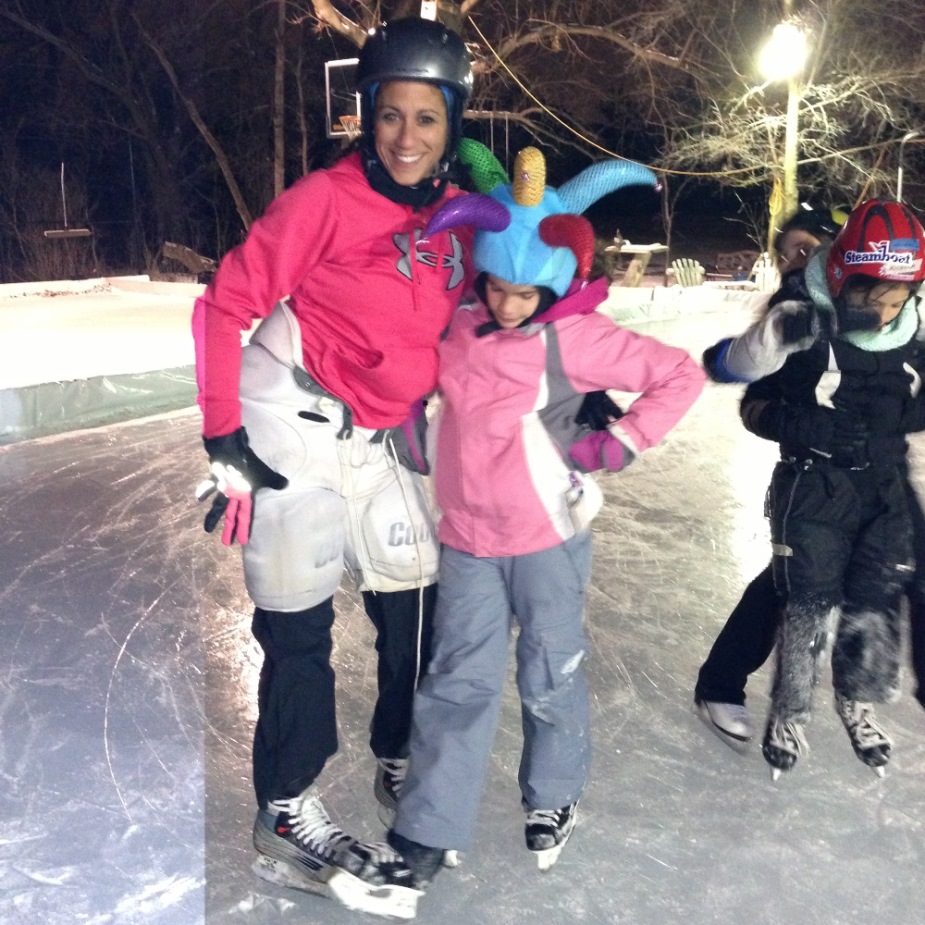 We have combined these talents and passions to successfully bring to market the Iron Sleek Backyard Rink System. It is our goal to bring the joyous experiences of backyard ice rinks to your home. Iron Sleek has helped make backyard rinks a reality for people all around the world. We want to thank you for your interest in Iron Sleek and lets hope for a COLD winter ahead!
The Iron Sleek rink system has many benefits over other methods:
The brackets are made of steel and are strong enough to support the force of the water and ice.

The contour of the bracket is designed to grab the earth, so the bracket stays in the ground. Other brackets pull out easily.

The elimination of the cross-member removes a tripping hazard. People falling while they walk around the rink will be a thing of the past.

The brackets are rigid yet compact. They ship inexpensively to customers everywhere and fold down for storage in the off season.

The accessories that are part of the Iron Sleek system allow you to build rinks up to a depth of 18" of water. Allowing you to build rinks in locations with up to 15" of pitch.

If you have trouble measuring your pitch, brackets can be installed after the rink is built. Simply use our installation tool to add another bracket between two existing ones. Other brackets make this difficult or impossible.

If your walls turn out a few inches short or you want to make them high enough to retain the puck, just add a few extension brackets and another board, and your walls get higher without a complete teardown.